With mixed feelings, I get on the plane in Munich as the 19th scholarship holder of the Grünwald Foundation, as part of a unique German-Japanese cultural exchange from (planned) March 1 to May 29, 2020. There is a certain tension in the air, the corona virus slows down Munich Airport. After 16 hours, a stopover in Tokyo and the third mask, I am greeted very kindly by Mr. Okamoto and Yasuo.
The start of an unexpectedly short but eventful and enriching stay.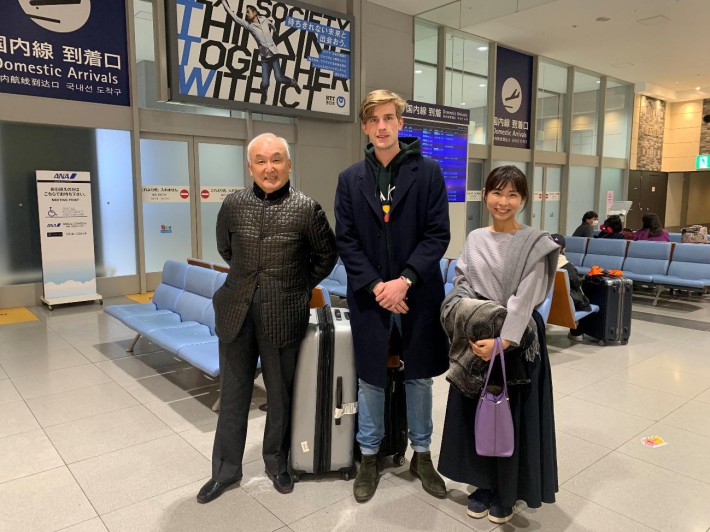 In the first days, Mr. Okamoto took me by his hand very caringly and explained his visions and ideas of the Grünwald Foundation to me. Every day he brings me closer to his country and its culture with great calm and enthusiasm.
I was really enthusiastic about the Japanese food. Whether sushi, sashimi, okonomiyaki, rahmen or an 11-course menu during my welcome party.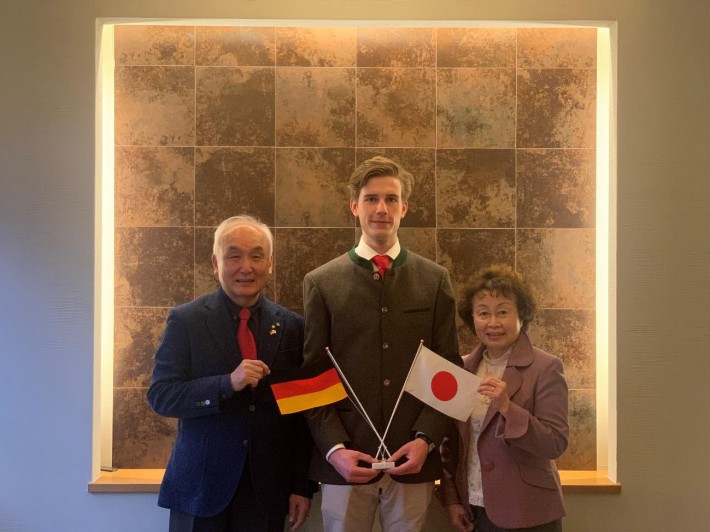 Japanese cuisine is similar to that of other East Asian countries; the striking difference is the more economical use of oil and spices. Rather, the taste of the fresh products should be retained as clearly as possible.
Served with a green tea or sake.
In the second week I visit Kyoto. Both historically and culturally, Kyoto is one of the most important cities in Japan. In addition, the city was the residence of the imperial court for over 1000 years. Numerous temples and shrines are UNESCO World Heritage Sites. A friend of Mr. Okamoto, Mr. Fukuda shows me parts of the city on the first day. It was important to get a small overview of the city from a local. With the multitude of sights (approx. 1800 temples, shrines etc.) you can quickly get lost. I was fascinated by both the architecture and the history of the individual sights, so I spent a total of 2 days in the deserted city. The city was totally empty due to Corona Virus but at that point nobody could imagine how far this would affect the entire world.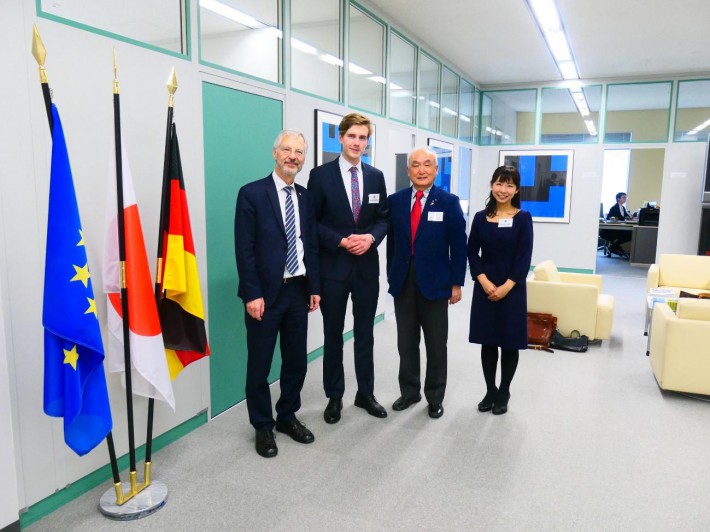 The development of the corona virus was also an issue during the visit of the Consul General Dr. Köhler in Osaka Umeda. The number of sick people in Germany has increased exponentially every day. It was very worrying, as it was also not certain what the development in Japan would be like. So we decided to cancel our stay in Japan. It was a sad farewell since I would have liked to learn more about Japan.
I am very grateful that Mr. Okamoto gave me this opportunity. In the 2 weeks I not only got to know an open, exciting country, but also found a good friend in Mr. Okamoto. I would like to thank the Okamoto family, the Rotary Club Grünwald, the Grünwald Foundation and everyone who brought me closer to Japan. A short but formative time that I will always remember very well.
In addition to acquiring basic knowledge of Japanese and dealing with Japanese culture and history, the scholarship holders of the Grünwald Foundation are also expected to experience everyday life in Japan. Work still accounts for a large part of this. Even though the situation has improved in recent years, the Japanese usually stay at work much longer than contractually agreed. Since work plays such a central role in everyday life, I wanted to take a closer look at it. The Grünwald Foundation maintains very good relations with Yanmar and thus I was able to visit this company for three days. Yanmar is a Japanese family business known for its compact diesel engines. Now the company has almost 20,000 employees and has greatly expanded its field of activity. In addition to diesel engines, gas turbines and even entire agricultural machines are now manufactured. Yanmar is also represented in the field of cultivation technology.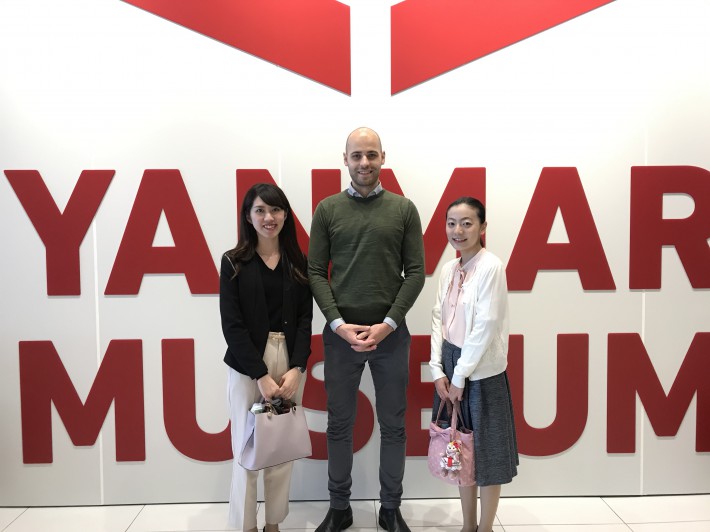 At the beginning of my visit I was introduced to the company's philosophy. Under the motto "For a sustainable Future", the company wants to play its part in overcoming the problems of our generation. Through efficient drives and innovative cultivation techniques, Yanmar aims to counter climate change and food shortages as a result of the population growth of the 20th and 21st centuries.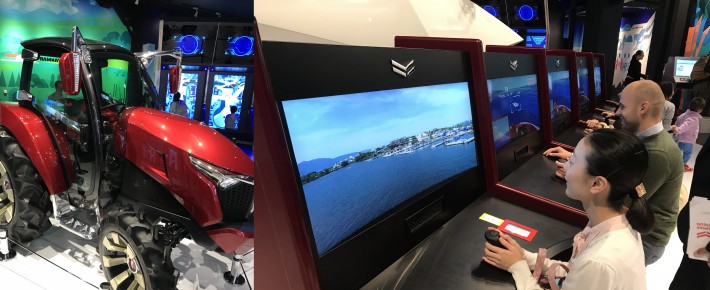 This was followed by a tour of the company's headquarters in Umeda. This ultra-modern office building is also called Flying-Y Building and is equipped with the latest in-house building technology. Over the next few years, the building is expected to be converted into a zero-emission building and can even feed excess energy into the power grid on mild, sunny days. But not only the building technology but also the work method seemed very modern to me. The headquarters mainly houses the personnel department and no longer offers any traditional workplaces, that belong to one person only. Every day a new seat is allocated to the employees within their department. In this way, the exchange among the employees is promoted and the formation of groups is avoided.
The staff canteen is located on the top floor of the building. In the middle of the room, a large tree is surrounded by beehives. To prevent the bees from disturbing the food, a glass partition wall has been installed. You can buy these bees honey directly in the canteen. Many other organic products were also offered by farmers working with Yanmar.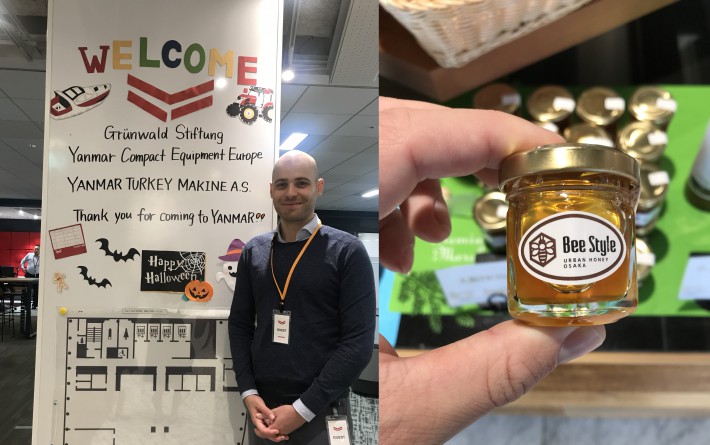 For the rest of the stay, visits to the factories were planned. So, we went took the Shinkansen to Okayama to visit the Kurashiki-Biolab and the Okayama factory. But I was particularly impressed by the Ibuki plant in Maibara. Although about 2000 variants of diesel engines are produced in only a handful of production lines, the degree of automation of this factory is enormously high. Here I was able to experience up close how well Japanese companies can optimize processes. It is not without reason that this is one of the paraded disciplines of the Japanese economy.
In the end, there was a dinner with the department that had organized my visit. Here we could review together what we had experienced and spent a nice evening.
Overall, Yanmar made a very modern and future-oriented impression on me and is already well ahead of other companies that still adhere strongly to the Japanese working model. From friends, I learned that the hierarchy in Japanese companies is very steep and strictly adhered to. At a time when Japanese companies were imitating Western products but offering them at a much better price, such top-down management was well suited. Today, however, Japan is one of the leading industrial nations and must develop its own high-tech products. Unfortunately, a rigid hierarchy offers little room for the creativity and inspiration needed for this. And so, some important companies like Sony or Toshiba had to face serious troubles over the past decade. Some others, such as Sharp, have even largely disappeared from the scene. Although I noticed that Yanmar is still in a phase of transition, I think the company is on the right track. Even though there are still differences between the headquarters and the older facilities, there is great will to break new ground and shape the future with determination.
I would like to thank Yanmar and the Grünwald Foundation for this enriching experience. In particular, I would like to thank Kajikawa-san and Oizumi-san, who accompanied me during my entire stay and while also pursuing their actual work.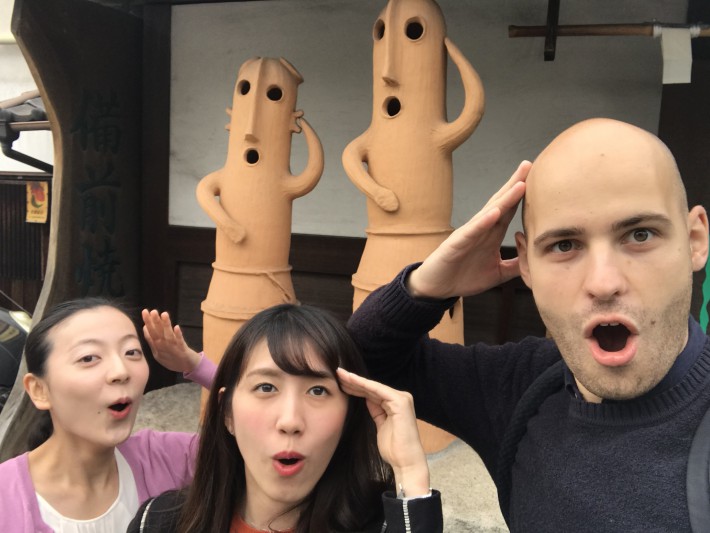 In these reports so far, I have mainly reported which places I visited, which events I participated in and how I spent my everyday life. After a little more than six weeks of observing, I would now like to devote myself more to Japanese culture and society and their impression on me.
There is one topic that is particularly important to me because it comes to light so often: the language barrier.
First, I am a little disappointed with my progress in learning Japanese. I had already started language courses at TUM in Germany. Altogether I have been learning Japanese for about one and a half years now. By now, I am able to communicate quite well in everyday life. I can make demands without problems for example when shopping or hold some small talk. However, when it comes to a rather unusual conversation and new situations, I struggle to follow the argument right away and often must ask questions, which makes a more in-depth exchange in Japanese almost impossible. This is a pity in itself, but it only becomes a problem because of the foreign language skills of the Japanese, which are usually even lower than my Japanese skills.
Japan's average TOEFL test score is the second-lowest in Asia. Only Laos scores even lower. Contrarily, Japan leads the table in English language education spending. English is compulsory in Japan from middle school onwards. I have been researching a lot lately and asked young Japanese people why there is such a discrepancy between the effort involved in teaching and the actual knowledge of the language and have come across some interesting findings:
Old-fashioned teaching: Historically, the grammar-translation method has been used most in Japan [Stewart & Miyahara 2011]. The Japanese learn English grammar and use it to translate English texts into Japanese. The widespread use of this method can be explained by the fact that in the early phases of English teaching in Japan, only a few non-fiction books or novels were available in English. Other teaching material simply wasn't available to design the lessons. Translating into Japanese will certainly improve the understanding of the language. However, the Japanese student rarely must write texts in English or must understand spoken language. The entrance exams at the universities also mostly require knowledge of vocabulary and grammar. Consequently, a Japanese student is not motivated to go beyond what he/she learned in class.
The island phenomenon: Already geographically the archipelago Japan shows a certain distance to the neighboring states. But especially politically Japan has closed itself off from foreign countries for a long time. Until the Meiji Restoration, the country even was completely isolated. Today, 98% of Japan's inhabitants are ethnic Japanese. As a result, Japanese people have very little contact with people who do not speak Japanese. In Japan, Japanese media are almost exclusively consumed. In addition, they have a pop culture that is largely independent of the West. Japanese have only very few legal holidays. The many public holidays are well distributed throughout the year and are therefore not suitable for long journeys. Thus, many Japanese go on holiday in Japan. All this leads to the fact that in Japan one only rarely encounters the English language.
Fear of change: Japanese often deny the use of English [Kubota, 2015], although this is well documented [Morita, 2017]. But there are also some who simply are reluctant to English out of conviction. There is a fear that improving the English language skills of the population will make the Japanese language skills and the importance of the language suffer. Singapore is often cited as an example, where English has been introduced as an official language and Chinese has been strongly repressed as a result. It is much more drastically formulated by Tsuda [Tsuda, 2000]. He writes that the English language is inextricably linked to cultural imperialism. So, when a better education in the English language occurs, not only the Japanese language suffers but also the Japanese culture and code of values. The representatives of this thesis may be in the minority, but it is surprisingly widely accepted.
Even before my arrival in Japan, I was often warned of the language barrier, but I didn't really want to believe it. After spending some time in this country, I must admit that this barrier exists and is enormously high. Especially in view of the Olympic Games in Tokyo in 2020, I see this situation very critically. I hope that Japan will acknowledge this problem and take action. MEXT, for example, is a program aimed at integrating native speakers more into English lessons in Japanese schools. However, these are mostly only teaching assistants and in practice have little influence on the design of the lessons. I still see great potential here, as I assume that Japan is appealing enough to attract specialists to the country. I would also like to see a cultural change in the position of the English language. In my opinion, there is no prospect of an improvement in the situation without the pupils' and students' own drive to learn the language. The complexity and limited distribution of the Japanese language mean that few people in the world are learning it. Now I am fortunate to have met many Japanese people who have excellent German language skills in the surroundings of the Grünwald Foundation. Apart from that, unfortunately, an in-depth and enriching exchange has proved difficult so far.
Morita, L. (2017). Why Japan needs English. Cogent Social Sciences, 3(1), 1399783. https://doi.org/10.1080/23311886.2017.1399783
Kubota, R. (2015). Paradoxes of learning English in multilingual Japan: Envisioning education for border-crossing communication. In I. Nakane, E. Otsuji, & W. S. Armour (Eds.), Languages and identities in a transitional Japan: From internationalization to globalization (pp. 59–77). New York, NY: Routledge.
Stewart, A., & Miyahara, M. (2011). Parallel universes: Globalization and identity in English language teaching at a Japanese university. In P. Seargeant (Ed.), English in Japan in the era of Globalization (pp. 60–79). Basingstoke: Palgrave Macmillan. https://doi.org/10.1057/9780230306196
Tsuda, Y. (2000). Eigo Beta no Susume [Encouragement of Bad English]. Tokyo: Wani no NEW Shinsho.
As mentioned in my last report, the mayor of Suita invited us to the town hall. Suita is the city in the north of Osaka, where Grünwald is located. At the warm reception, where tea was served as usual in Japan, mayor Gotō Keiji asked about my experience in Japan so far and what I expect from the coming weeks. In addition, I learned some important proverbs of the Kansai dialect from him, which has already paid off in the short time since the meeting.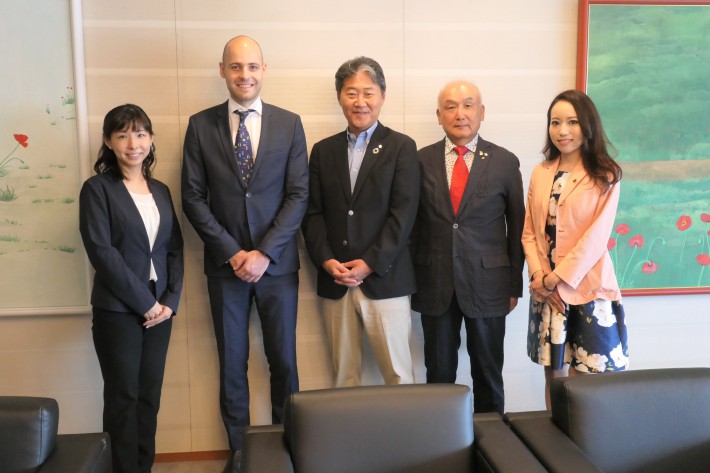 Shortly afterward Consul General Dr. Werner Köhler welcomed us at the German Consulate General Osaka-Kobe. The consulate is located on the 35th floor of the Umeda Sky Building and offers a breathtaking view over the city. In a short but very interesting conversation, Dr. Köhler told us about his experiences in Japan and especially in the Kansai region. I was also invited to the celebration of German reunification, for which I would like to take this opportunity to express my sincere thanks.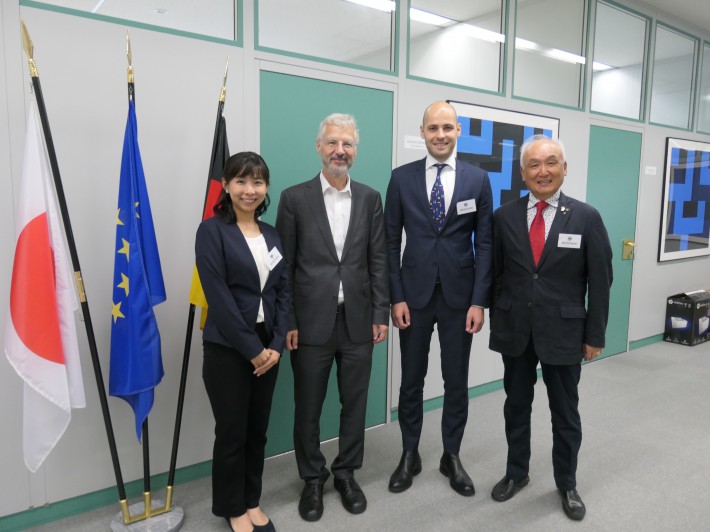 In the meantime, I have found my way to Osaka and everyday life is slowly settling in. So far, I appreciate two things especially about everyday life in Japan.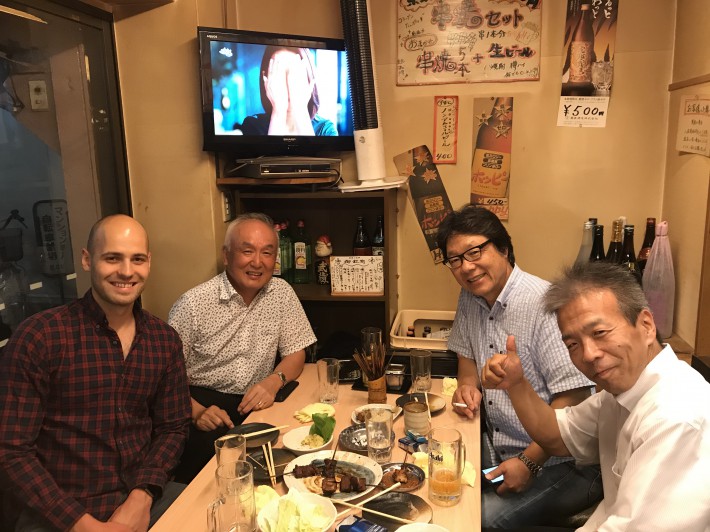 On the one hand, I am a big supporter of public local and long-distance traffic. Both are very well developed in Japan. Especially in conurbations like the Kansai region, you always get to your destination quickly, cheaply and in an environmentally friendly way. Kyoto or Kobe, for example, can be reached from Osaka in about 40 minutes. If you take the Shinkansen (the Japanese equivalent of the ICE), it's even faster.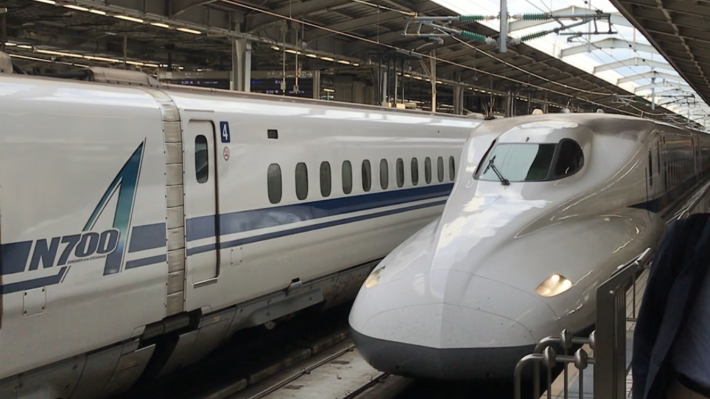 On the other hand, I am enthusiastic about Japanese food. My high expectations in the run-up were again exceeded. Even though dishes such as Okonomiyaki and Yakisoba are very popular in the Kansai region, my personal favorite is clearly ramen. This noodle soup of Chinese origin has been constantly varied and refined over the last decades. There are now 10,000 restaurants in Japan specializing in this dish. I enjoy the resulting quality and variety over and over again.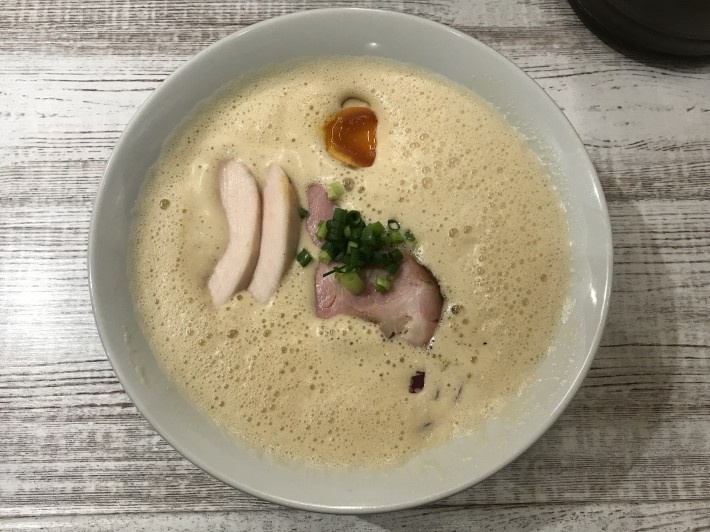 In addition to searching for the best ramen shop in the Kansai region, I used my free time to visit the port city of Kobe. The city is bordered on one side by the sea and on the other by mountains. In many places, the distance in-between is less than 2km. I have rarely seen so clearly as here how the two characteristic landscape features of Japan lead to creative and efficient use of space. Beside the highway and train bridges that are literally stacked on top of each other, one can also see some artificial islands here.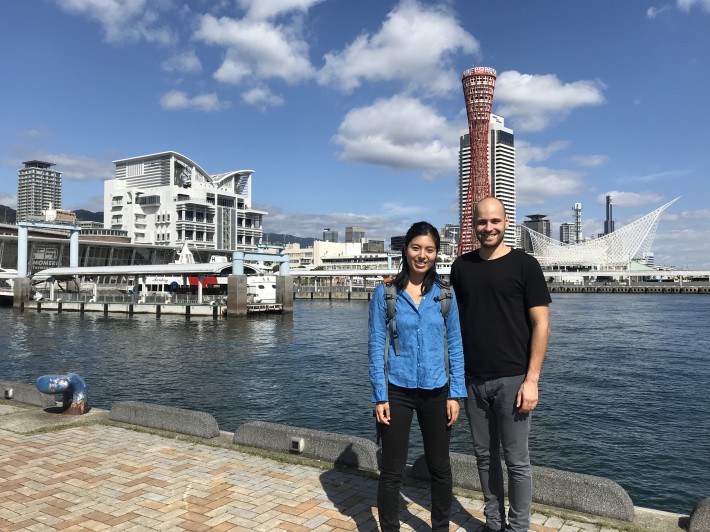 As the 18th scholarship holder of the Grünwald Foundation, I am offered the opportunity to gain a deep insight into Japanese society and culture. I had already started learning Japanese in advance. Now I hope to improve my language skills significantly through everyday life in Japan.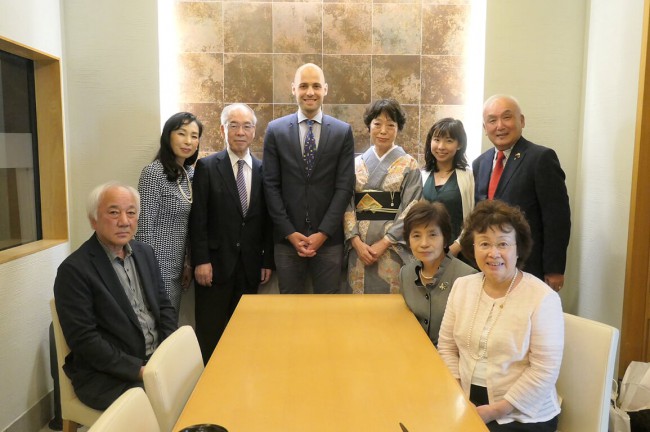 The first two weeks flew by, because Mr. Okamoto had already planned many events for me. Among other things I could introduce myself at the Rotary Club Suita, we attended a benefit concert of the Yamaoka Foundation and received a travel group of the law faculty of the University of Augsburg, together with the Japanese-German Society Osaka.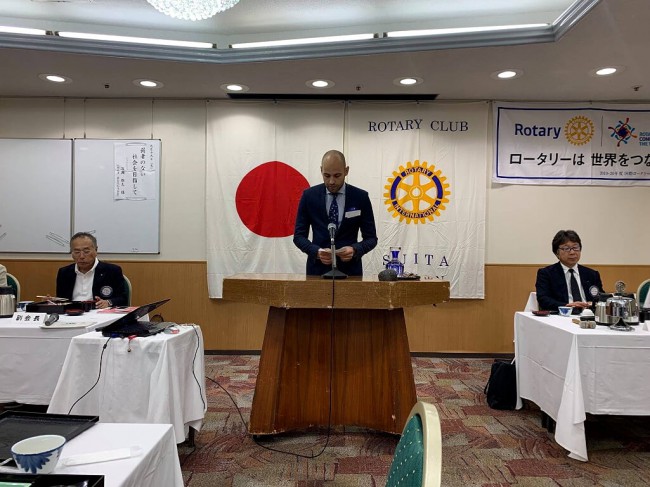 I would like to emphasize the Welcome-Dinner organized by the Grünwald Foundation in a Kaiseiki restaurant. Kaiseiki is regarded as one of the finest forms of Japanese cuisine. The focus is on seasonal and regional products. Due to the high quality of the ingredients, they are only processed to the minimal extent in order not to lose their natural taste. I would like to encounter this principle more frequently in Germany as well. In our case, the feast was divided into eleven courses. Each of them knew how to surprise and inspire. In addition to excellent food, delightful company was also offered. In addition to members of the foundation, Mr. Takahiro Shinyo, the former Japanese ambassador Berlin, for example, attended the evening.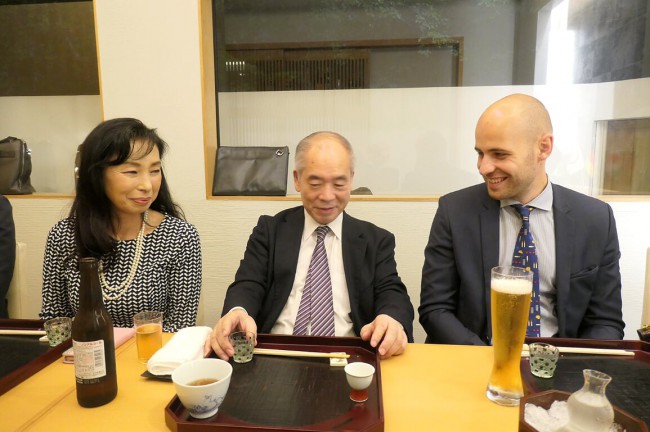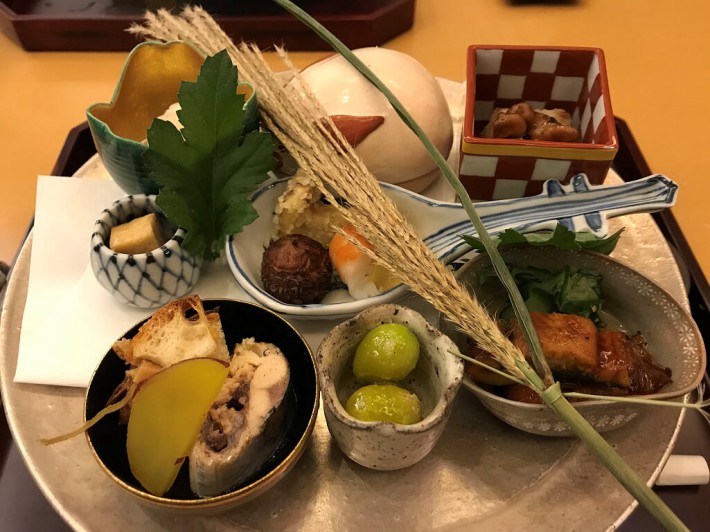 On the other hand, I enjoyed the Mary Ainsworth Ukiyo-e Colletion, which was on display at the Osaka City Museum of Fine Arts at the time. Ukiyo-e is a wooden print technique that gave many Japanese people access to art from the 17th century onwards. In the beginning, the motifs were mostly women and Kabuki actors. Gradually, however, artists such as Katsushika Hokusai and Utagawa Hiroshige began to focus on landscape paintings. Some of the most famous Japanese works of art, such as the 'Red Fuji', date from this period and were also part of this exhibition.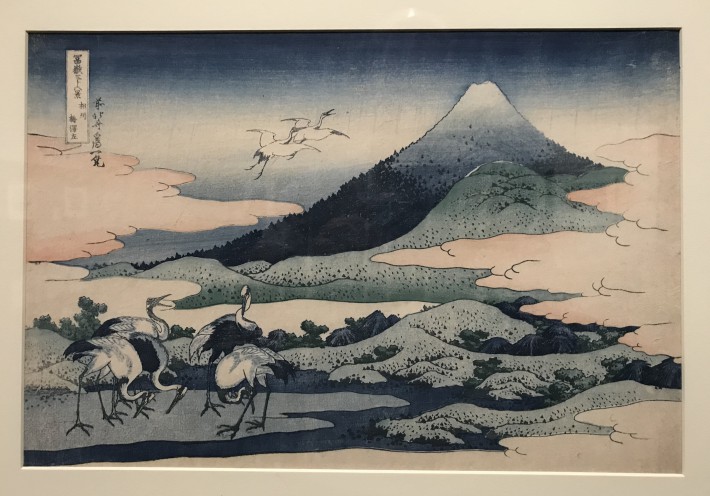 I am very much looking forward to meeting the German Consul General and the Mayor of Suita soon. In addition, I will participate in regular meetings for cultural and linguistic exchange in Osaka and Kyoto. I would like to thank Mr. Okamoto and the Grünwald Foundation for the time and effort they have invested to offer me such events and opportunities.
So finally I am writing my sixth and last report. It's hard to believe how fast these three months have past. Before my journey started I was wondering a lot about what was expected of me, if I would be homesick and if my personality would change as soon as I returned home.
I can tell my journey to Japan has changed my point of view on several things positively. Additionally, I have become more conscious, open minded, funnier and more critical. Japan has helped me increase my ability to travel alone around the world.
Since I was spending a lot of time on my own and did a lot of tours, I got to know myself better and better every day. Because of my lone adventures I realised that I am an independent person that doesn't necessarily need someone to feel satisfied. In Japan I went out of my comfort zone almost everyday, without a doubt this has turned out to be the most important thing to improve my personal development. Unfortunately it appears that in today's world, thriving for unreachable perfection is the aim of so many people from all around the world. If we could start accepting ourselves with all our flaws and mistakes, in my opinion, a lot of people would be more happier. Through travelling on my own I learned how to accept myself more, above all this appears to make a lot of things easier in life.
Seeing the diversity of the people I have met during my journey, I realised how beautiful and eye opening it is that we humans live and think differently. Again I'd like to thank family Okamoto, Christine Waldhauser-Kuenlen, Matthias Weber and Miss Menacher from the bottom of my heart. Through your unselfishly support you have given scholars an extraordinary opportunity to thrive for more in life. I would particularly like to express a special thanks to my uncle Prof. Dr. Dr. Andreas Riederer, without him I'd never have had the courage to apply for the 17th scholarship of the Grünwald foundation.
Now that I am back I often think of my life in Japan, remembering all the gorgeous people I have met, I'd like to thank them for all experiences and memories. Finally, I will keep this shining country in my heart and am eternally grateful for this experience.
The first month of the scholarship allowed me to settle in, to explore the city Suita and to empathize with the Japanese culture. The second month was to focus on learning the language and finally the third month to travel wonderful Japan. Using the express train called Shinkansen which reaches up to 320km/h and enables you to drive from Osaka to the capital Tokyo.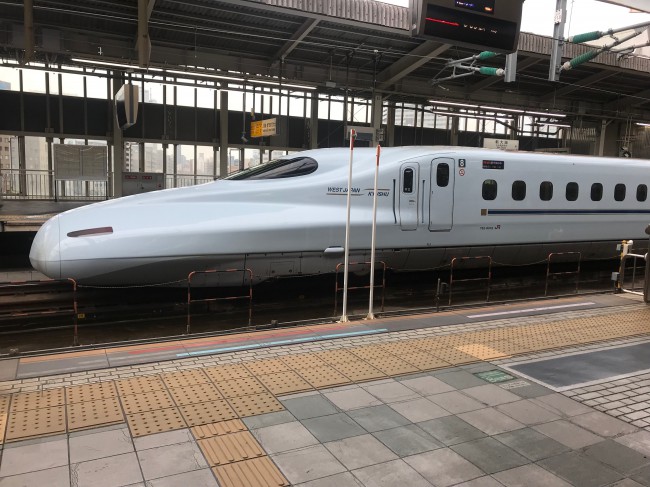 Finally arrived in Tokyo everything didn't seemed as busy and crowded as I imagined. Maybe I felt that way because I was used to Osaka. Nevertheless, after the first day in Tokyo you abruptly notice how huge and incomprehensible the city is. Innumerable skyscrapers are growing out of the floor everywhere you go. Overwhelming. If you ask me, in order to understand this city, you have to travel there by yourself. In my opinion not even long descriptions can give you an image of Tokyo.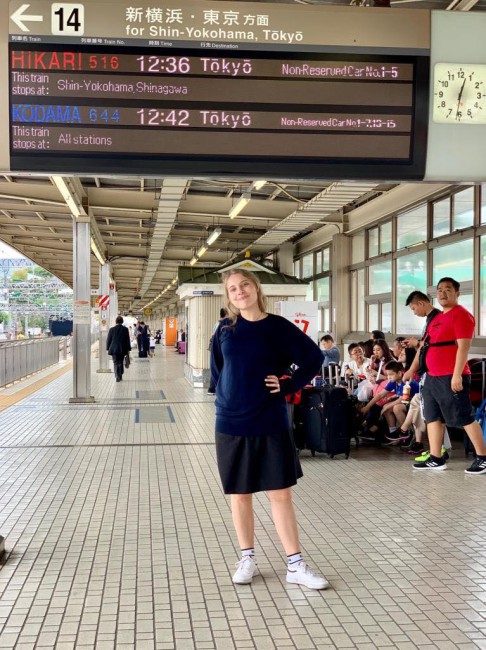 A thing that has fascinated me since I was a little child is Sumo fighting. Therefore, I was very disappointed as I heard that there were no matches offered during my stay. Hence I booked an official Sumo training session in Tokyo. The rules of Sumo are quite simple. As soon as one of the fighters touches the ground with any body part other than the soles of his feet, the match is over.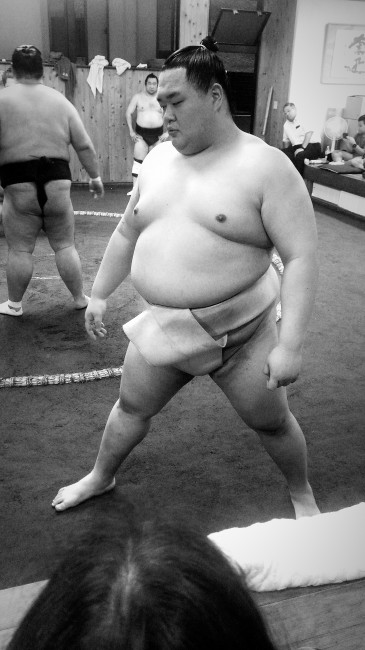 Additionally, the objective is to force the opponent out of the circular ring. Partially one of the Sumotori turned savage during the fights, therefore it didn't seem to be a big deal when all of the sudden a fighter started bleeding from his forehead. As the training was over I panicked as I noticed a 150kg Sumotori walking towards me in order to start a conversation. I highly recommend to visit a sumo training in Tokyo! By the way, there are also female Sumotori!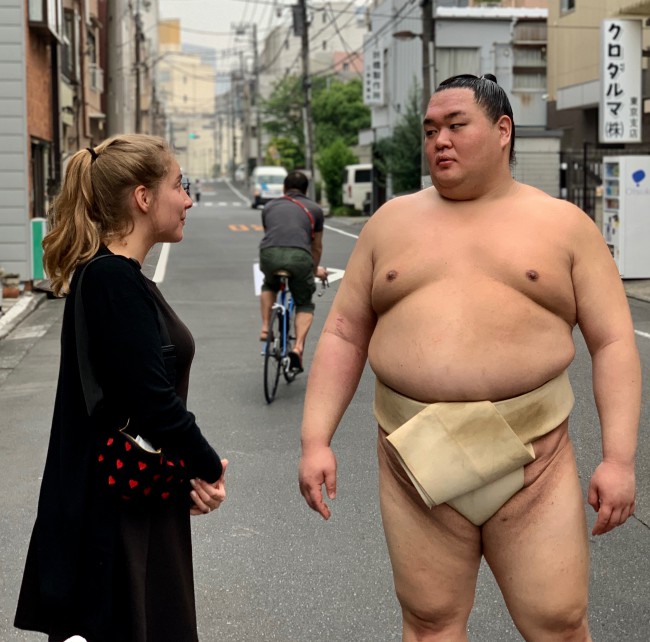 The next destination was more of an unpleasant but in my opinion absolutely essential visit when you are in Japan. It's called 'little boy' 1945 which was the atomic bomb that was dropped over the city Hiroshima during World War II.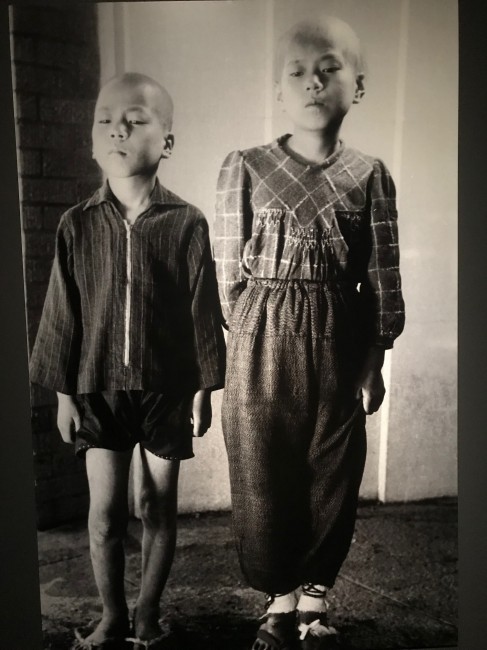 A few days later another bomb hit Nagasaki. 100.000 people died immediately, 130.000 more died of the secondary damage. As we arrived in the fully rebuild city nothing but the peace monument and peace museum reminds of the atrocity back in 1945. After leaving the peace museum I felt infuriated, doubting the sanity of humans, but also grateful for my own health and security. As soon as we reached the island Miyajima my sad thoughts were able fade a little into positivity. It is unbelievable that Atomic bombs still exist on our planet. It appears that we humans haven't learned anything of this cruel incident.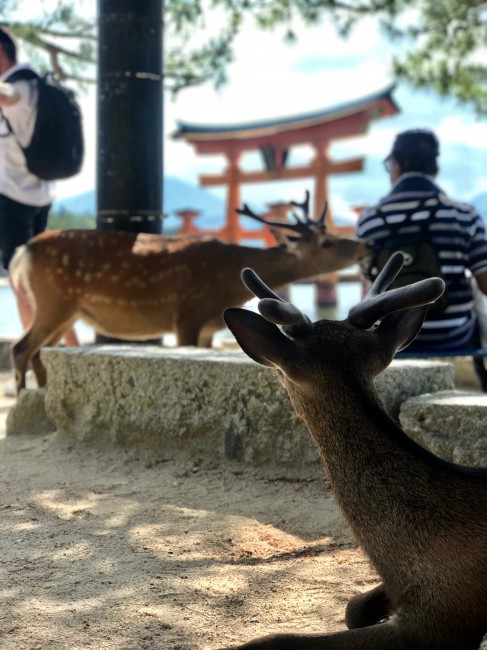 The 'Aoi Matsuri Festival' is on of the three most important festivals in Kyoto. It takes part every year on 15th of may. Together with professor Aoji and his students from the Kyoto University I was able to visit it. The main attraction was a huge morning procession escorted by two large bullock carts. The almost 500 participants were all dressed in traditional clothes from the Heian-period. Furthermore another highlight was the so-called 'Saio-Dai-Queen', dressed in a extreme valuable silk robe. Her task is to honor all the Shinto godheads.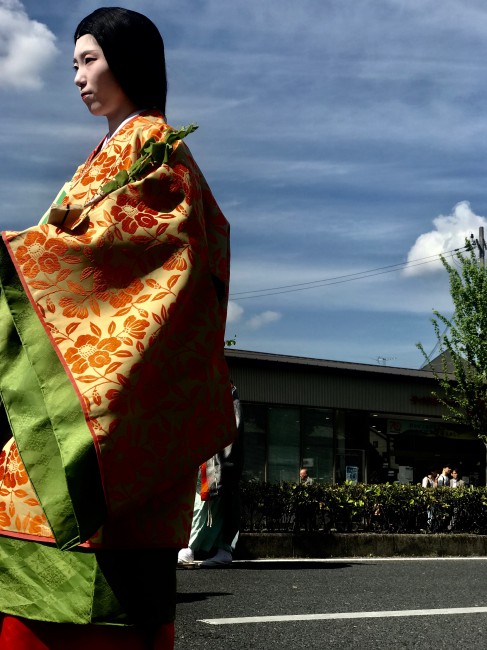 To my utter astonishment the whole procession was held in silence. Back in Germany such festivals are always accompanied with several music bands and loud drums. I assume the 'Aoi Matsuri Fetsival' is held in calmness due to the fact that it is a desperately religious event.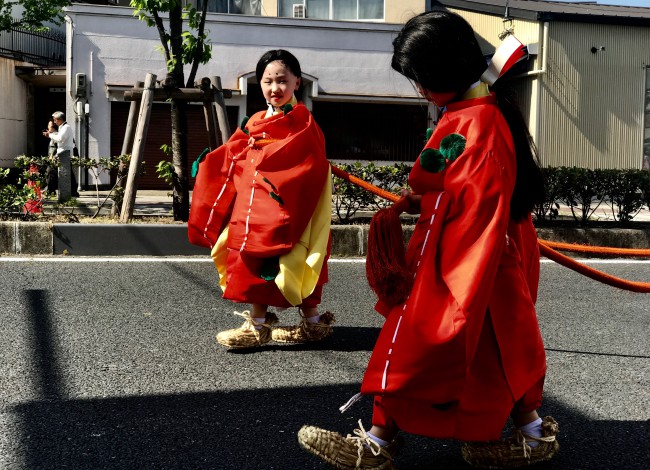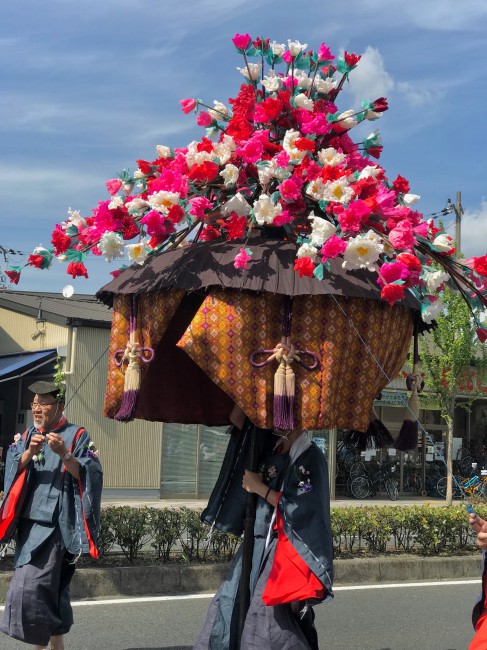 To my way of thinking a stay in Japan makes oneself more sensitive, thoughtful and especially self-confident. Nearly everyday you're challenged to step out of your comfort zone. Therefore I decided to visit Koyasan, known as the 'secret monk village'. It is reachable through a cable car in the middle of mountain Koya. Since the journey to the village is quite challenging, not that many tourists like for example in Kyoto, decide to visit this spiritual place.
The main attraction of Koyasan is the famous graveyard forest 'Okunoin'. It is one of the most sacred places in Japan . 'Kobo Daishi' the founder of Shingon Buddhism is believed to rest in eternal meditation in between the countless gravestones. As recommended I visited the graveyard by night. Innumerable lanterns bathe the path in an extraordinary atmosphere of light.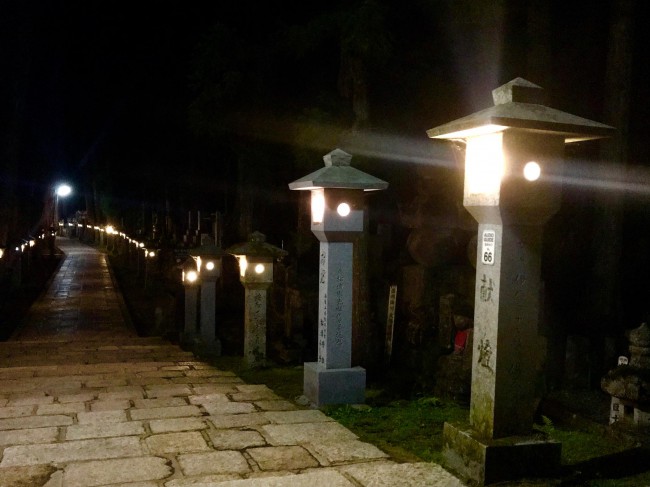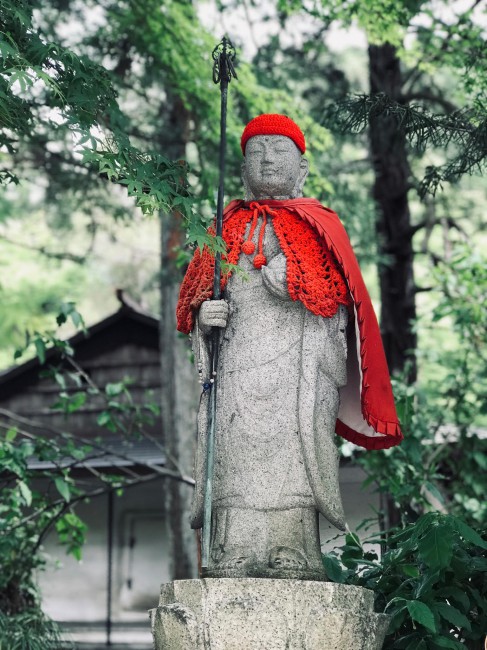 Contributing to the mystical aura of the mountain, the silence in this village is somehow contagious. Once when I asked a guard for the way, I found myself speaking under my breath. I highly recommend a stay in Koyasan. Furthermore sleeping in an original temple and joining a buddhist morning ceremony is a magical and inspiring experience!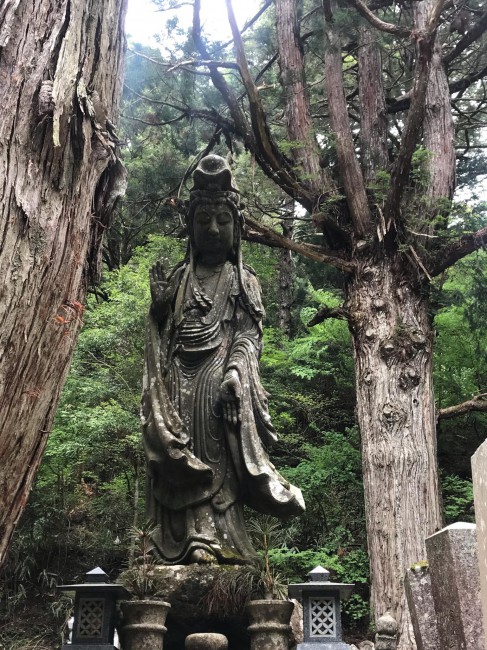 Before traveling to Japan many people told me that the time will pass by really fast. Right now I realize that more than ever. After two months in Japan my views extremely changed. Never have I thought that I would meet such lovely and diverse people.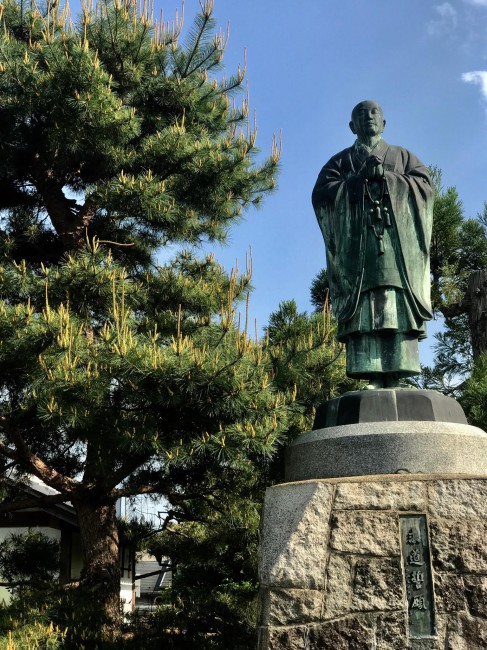 During the 'Golden Week' Mr. Okamoto signed me up for a RYLA course outside of Osaka. RLA stands for 'Rotary Youth Leadership Awards'. These events, day seminars or weekend meetings are there to held you specify on teamwork and your own personal development and improvement. Some ways of making this happen is by organizing group projects, hikes an multiple kids of trips.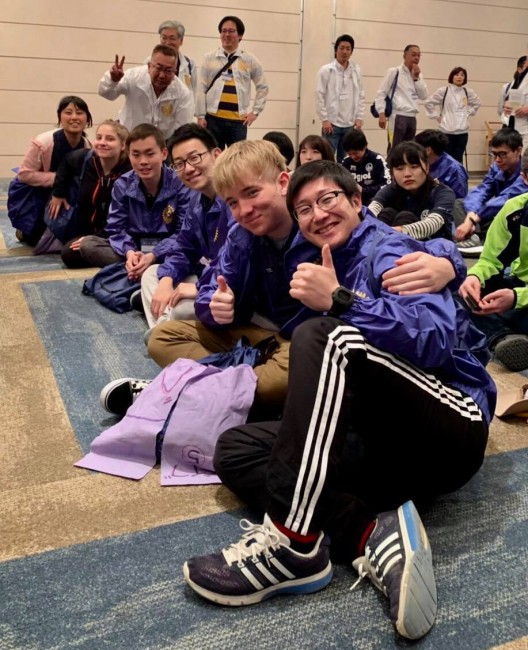 As someone being part oft he Grünwaldfoundation I was the first one ever to attend such an event. At the arrival all participants were split up in to rooms equipped with traditional Tatami-mats. I was in a room with a bunch of young ladies. Although not everybody was fluent in English, we connected right away. Our accommodation where we 200 participants between 16-30 years old housed, offered besides wonderful food their own hot spring.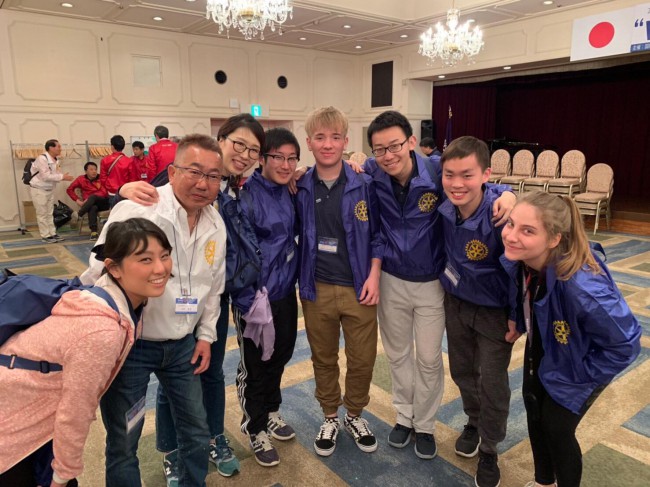 In the evening some of my roommates told me that they would visit the Onsen and asked if I would like to come with them. Of course I immediately said yes because, this was a unique chance! My clumsy and awkward way of handling the very ne wand unfamiliar situation in that Onsen really amused my colleagues very much. All in all I tried not to take it to serious and after all the girls explained me patiently the process in an Onsen. For example there is a special way of tying your turban. Visiting an Onsen fort he first time with such lovely, understanding and diverse women was truly a magical experience. Even though we all came from different parts oft he world (Japan, France, Korea, Malaysia, China, USA etc.) we all felt the same.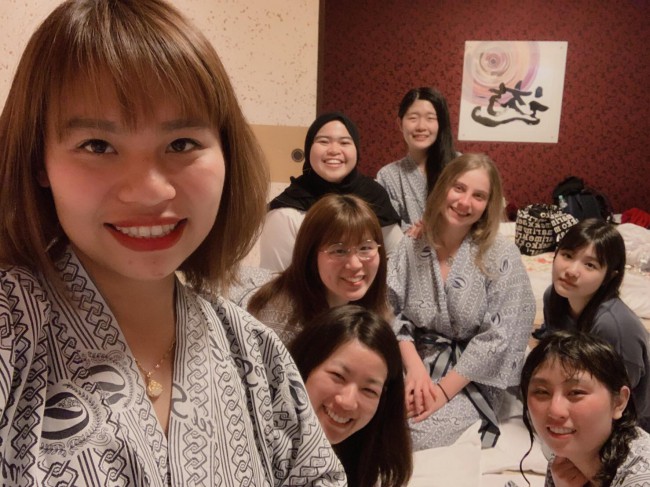 This reminded me that women around the world have to stick together to be powerful and protect each other. It doesn't matter where you come from or where you have been to, the only thing that matters is to empower and support each other.
In the following week I visited seaport Kobe fort he very first time. I met Nobuko and Naoya Ikawa there. Once a month the married couple prepares together with members of the local church community meals for people in need. This time I had the opportunity to help them.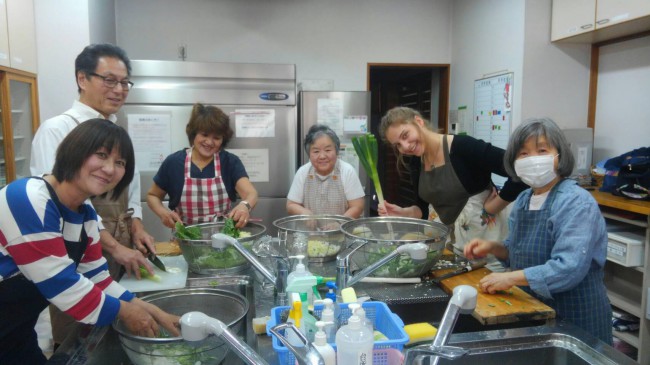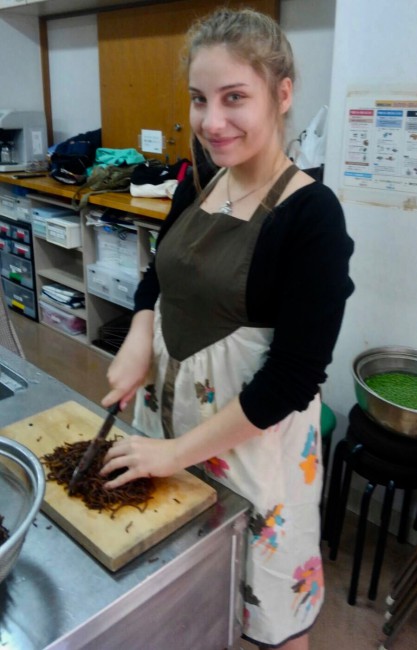 With eight other volunteers prepared  the chinese dish 'Chuka Donburgi'. It was enough food for everybody including ourselves. Shortly after the meal everybody helped together to clean and organize the dishes. Some oft he people we provided with food came up to me to thank me personally to for cleaning the dirty plates. Some of them even  helped us out and others collected the uses dishes. By taking turns everybody was able to help in all areas, therefore only after 45 minutes everything was tidied up. It shows that everybody hast he possibility to help and to support people in need. Frankly. we are all able to sacrifice a few hours a week to make a positive impact on someone's life.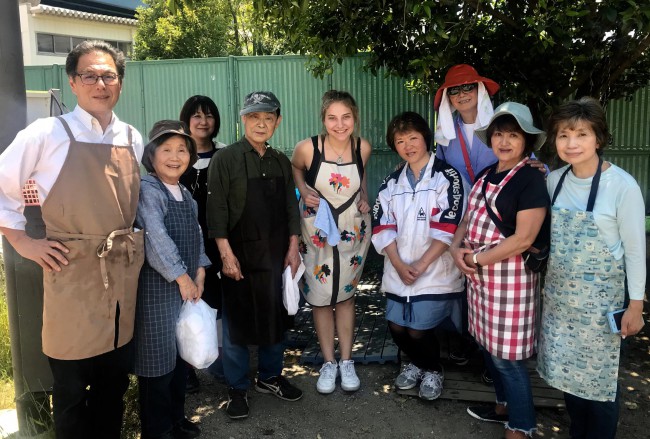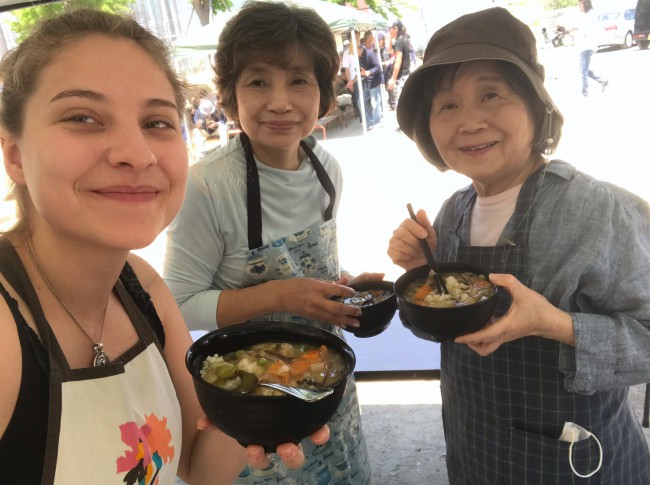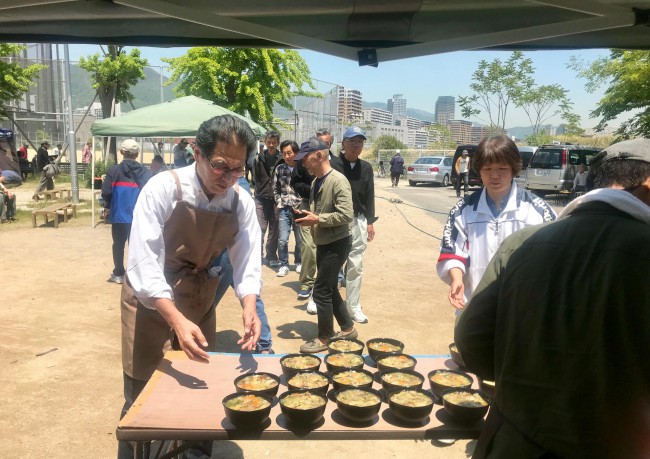 In the evening Mr. And Mrs. Ikawa showed me Mount Rokko and behind the mountain village 'Arima Onsen', one oft he oldest bathing resorts in Japan. It was not as busy and full of tourists as other places I visited. So the trip was very calming and soothing in contrast to the mostly very crowded life in other cities.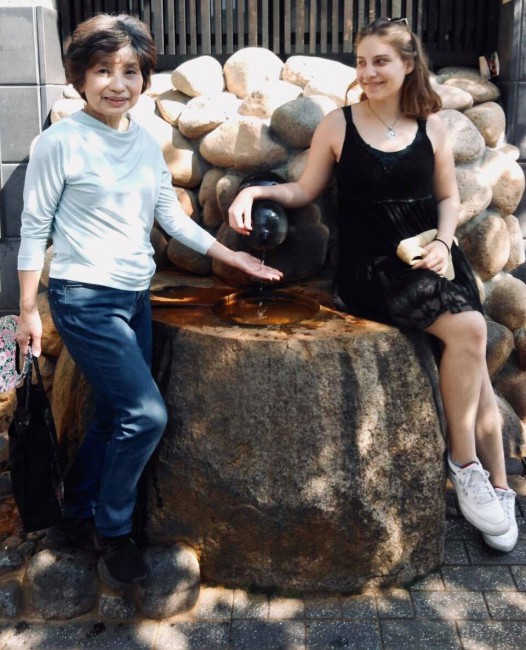 On the same evening Mr. Okamoto , I and about 40 other people were invited to a prime dinner with selected wines. At first I really had an odd feeling. A few hours ago I was standing in a tent with my apron on, helping to make meals for people in need and now I am sitting in front of an excellent four course meal with fancy wine. It was truly an amazing dinner and evening. We had a lot of fun but still sometimes I wandered of with my mind to my lunch in the tent together with the volunteers and the people in need. Even if it was something complete different, it was at least as wonderful as my dinner.