☆☆ Third essay of Astrid, eighth trainee of Grünwald foundation ☆☆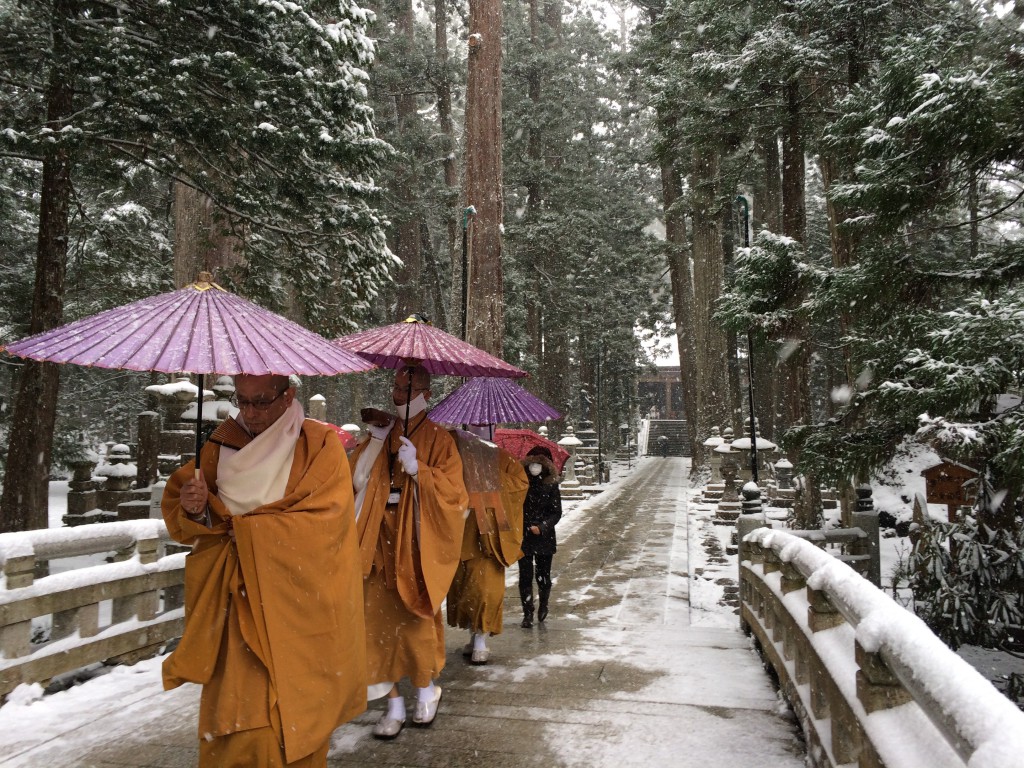 A journey to Koyasan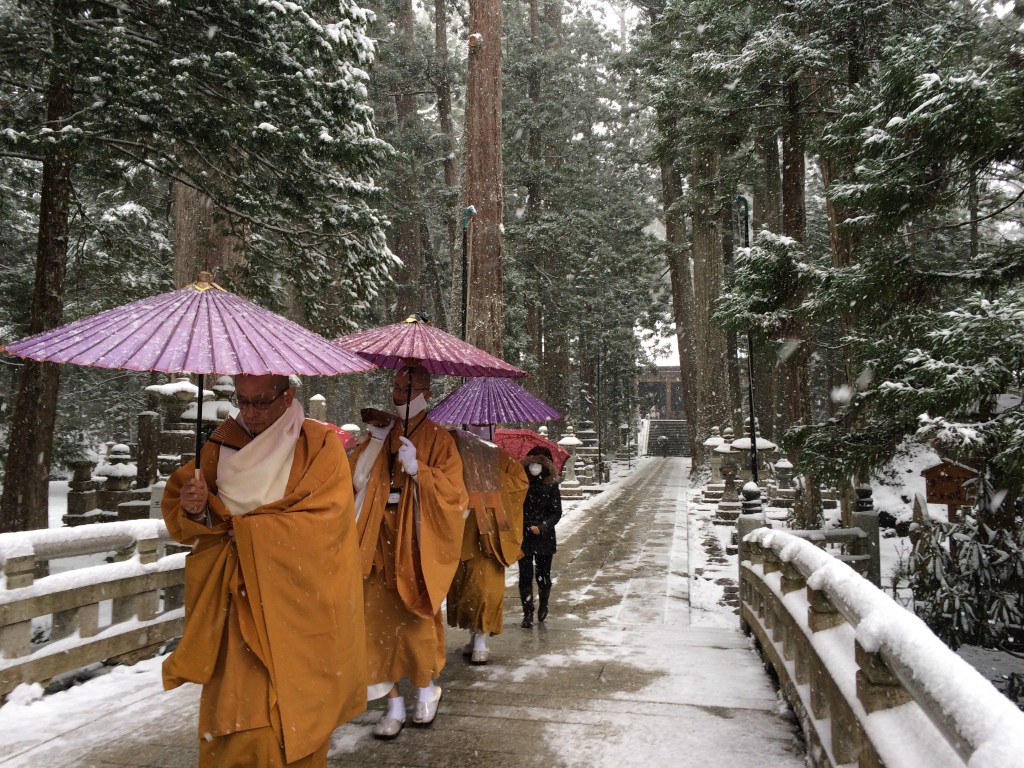 A trip to the most peaceful place maybe in the world, led me to Koyasan. A place with many ancient Buddhist sites of the Shingon-religion. Over the centuries, there arose, developed by the monk Kobo Daischi in 816, the impressive temple complex.
Like a true monk I wanted to discover this holy place, so I decided to go the traditional, centuries-old pilgrimroute "the Choishi-Michi-way" up to the mountain Koyasan.
The first of 180 stone pillars are standing in Jison-in Temple in Kudoyama and mark the starting point of the trek.
In the Edo period, a Choishi was set up (five stones standing for the five elements of earth, water, fire, wind and space, towering a stone tower) at a distance of a Cho (about 109 m).
The path now got through fruit orchards with great views of the surrounding valley and through bambooforests.
Then the vegetation changed and I found myself in an impressive forest that was sweetened with the first snow.
I regularly walked past the famous stone columns, until I finally reached after 24 mile walk, the famous Daimon Gate and the final destination, the Mausoleum of Konpon Daito.
A little bit later, in Saizenin-temple, a Shukubo (Temple for the nightstays) I was awaited by two very polite and courteous monks. They served me immediatelly after I arrived an incredibly good, typical vegetarian food.
Then I could take a well deserved bath in an onsen again.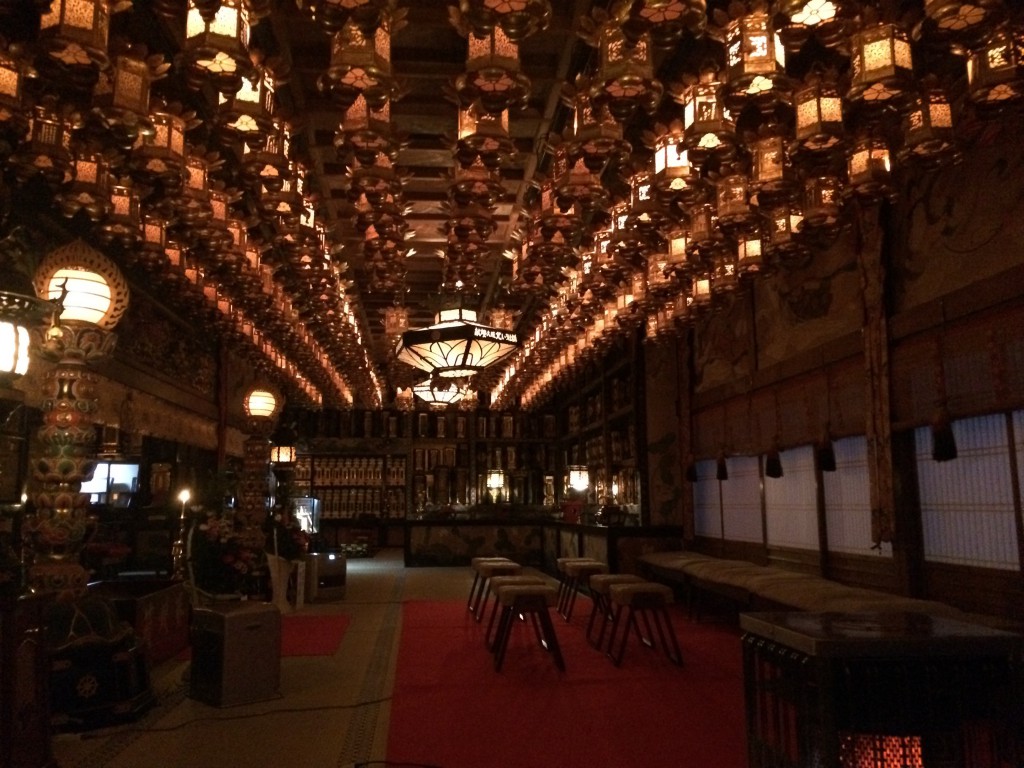 At 6 clock in the morning my new day started with an extraordinary and unforgettable experience: I was able to attend at the morning ceremony and pray for my family and friends.
Since extremely rare in the Kansai snow comes up not so often, that's why a good Jap. Girlfriend also decided to go to Koyasan.
There, we admired the snowbound, famous gravement Okunoin. In this mystical forest, we visited the mausoleum of Kobo Daischi and discovered the grave of the founder of Panasonic, too.
Also in Koyasan I could feel once again the Japanese hospitality: Because it was so cold a hand warmer and an expensive prayer bracelet was given to us as a memory of Koyasan by a generous monk.
Another interesting experience was the Sutra Copying meditation for me. For this purpose I was able to write off 262 kanji. It is taught that copying sutras brings peace and harmony to body and mind. I can absolutely confirm this, even if it was very tiring.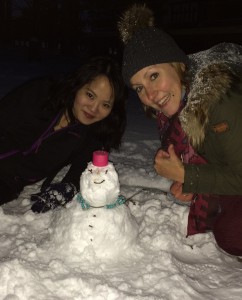 After a few snowball fights and a mandatory Snowman, we have left the peaceful Koyasan.
Arriving in the main train station of Osaka, I could once again feel the difference between modern and tradition in Japan. The hustle and the many crowds were a real contrast to the spiritual and snowy place Koyasan.