☆☆ 1st report of Anna Götz, 11th scholarship holder of Grünwald foundation ☆☆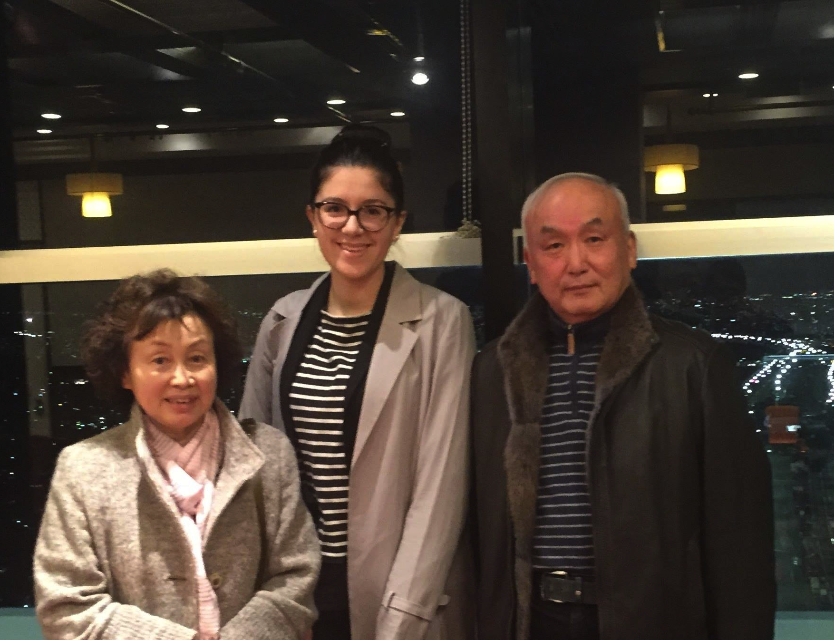 "Travel improves the mind wonderfully, and does away with all one's prejudices. "
(Oscar Wild)
Inspired by this I, Anna Götz, started to travel through the world after having done my Abitur at Kloster Schäftlarn in June last year. My aims: to become acquainted with new cultures, to expand my horizon and to get a new perspective, before I'm going to start studying Physics in autumn.
As highlight of this gap year I got the chance to go as eleventh scholar of the Grünwald foundation to Japan for three month. I cannot believe my luck and want dearly to give thanks to everybody, who makes this once-in-a-lifetime chance possible, especially Mr and Mrs Okamoto!
At the 20th of March 2016 the adventure Japan started. I landed in Osaka, Mr Okamoto picked me up and drove with me to the quaint and quite city Suita, which is just a stone's throw away from Osaka. There he showed me the surroundings and his in the manner of Grünwalder villas built houses, whose number constantly grows and which together like a little village sit enthroned over Suita. I immediately felt at home in the large and well-equipped flat in the so called "Mädelshaus", in which I'm going to live the next three months.
But Mr Okamoto is not just spending the accommodation and a monthly pocket money. He and his wife are also inducting me into the life in Japan and are always on hand with help and advice. In my first week they took me on a culinary journey through the delicious, versatile and subtle Japanese kitchen. The highlights of this week were two evenings, on which Mrs Okamoto was ambrosially cooking by herself, a lunch at the Rotary Club Suita and, of course, the welcome party at the exquisite restaurant Syunsai Yamasaki, where I had the great opportunity to meet Nobuko Wada, Nobuko Ikawa and Junichi Matsuoka, the architect of the Grünwald houses, during interesting and delightful conversations.
In the second week I had the first time again German food during the meeting of the Japanese-German society, on which I was welcomed with open arms.
But I was not just asked to dinner, Mr Okamoto went also with me to a supermarket and showed me a few Japanese quick-lunch-recipes. Besides catering for my nutrition he brought me Japan closer with detailed introductions in the Japanese history and language and a trip to Osaka, during which he showed me the Japanese train system and the borough Umeda.
Furthermore he gave me lections about the way of living and reaching success by telling more about himself, his live, philosophy, experiences and the Grünwald AG and foundation.
Additionally his wife spent her precious time and made an enchanting trip with me to the gorgeous old capital Kyoto. There we went to a feast in a shrine, admired the cherry blossoms and visited the divine Golden Temple.
Besides this program I had enough time to explore Japan on my one. So I got known Osaka with its open-minded and casual atmosphere, its business and government districts around Umeda, the crazy areas around Shinsaibashi and Namba and its castle.
Apart from Osaka I was keen on especially Kyoto, the cultural heart of Japan. During by now six daytrips I learned to love the city with its partly old houses, wonderful temples and shrines. A unique experience in Kyoto was the copying of sutras in a quite and a bit outlying temple. Even though I did not understand, what I was writing, I could experience the ruminant impact of this activity.
By contrast not so quite was my first Hanami. I have the luck to be in Japan during this year's cherry blossom period and to get invited to a cherry blossom celebration, a so called Hanami (eng.: blossoms watching). Nearly every Japanese celebrates a Hanami with friends, family and often also with colleagues. For this purpose they go to a park and have a picnic under the cherry blossoms on most of the times big, blue plastic sheets. Everybody is bringing some food and there is plenty beer and sake. I had additionally the luck to get known a very good German speaking Japanese girl, who is now a good friend.
To take part in such a typical Japanese celebration gave me a very interesting view in the Japanese culture. Here in Japan the aim of the people is not to have fun, it is to make sure, that the others have fun. They refill the glasses of the others – not their own -, offer the others some food and when somebody has nobody to talk with, they talk with him. As a result nobody – even themselves – is thirsty, hungry, bored or sidelined. But they show this behaviour not just during celebrations, it is ubiquitous and for this reason we European think the Japanese are so polite. So the Hanami was an experience I do not want to miss.
But to go not beyond the scope, I am ending now the report about my first two weeks in Japan, even though I have an endless number of things to tell, because from the little earthquake at the 1st of April to a purchase in a supermarket everything here is an experience. And I cannot wait to get more of those experiences and insights in this fascinating country, which is already casting a spell over me!!!