☆☆ 3rd report of Christina Held,10th scholarship holder of Grünwald foundation ☆☆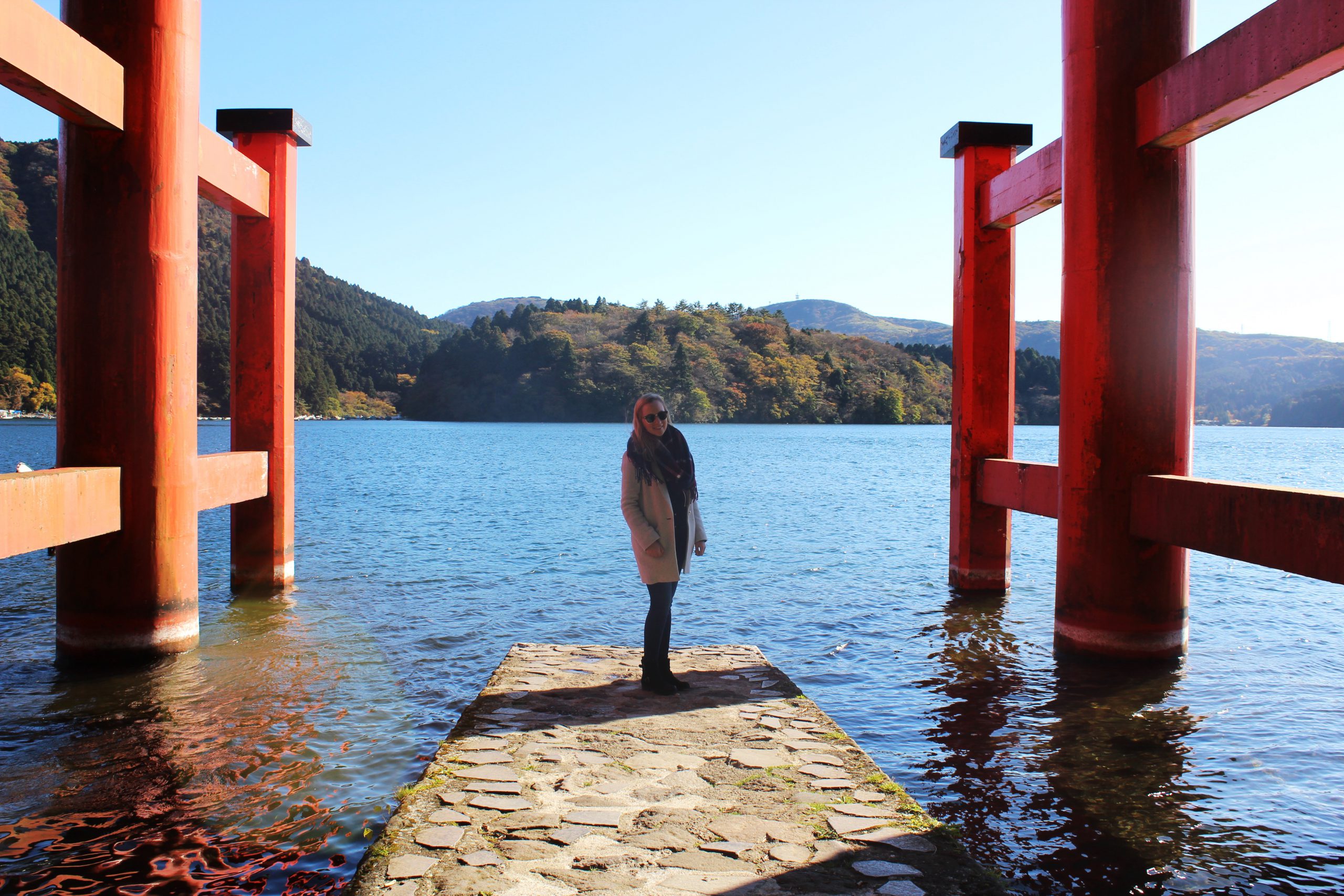 Loud, narrow and steep roads with bright luminous advertising, calm and natural temples, beautiful parks and spacious gardens.
Tokyo, a town characterized by extremes: amalgamating the traditional and modern Japan at the same time.
Together with my friend from Switzerland, who I met during my studies in Fribourg, I spend two amazing days in Japan's capital. After a three hour train ride in Japans famous train Shinkasen, I finally arrived at Tokyo station. Therefrom I headed for Tokyo's Shibuya district, to meet my friend at the famous statue of the dog Hachiko, the symbol of faithfulness in Japan. The statue is considered to be one of the most famous places for appointments in Tokyo and is situated next to Japans most popular crossing: Shibuya-Crossing 渋谷区.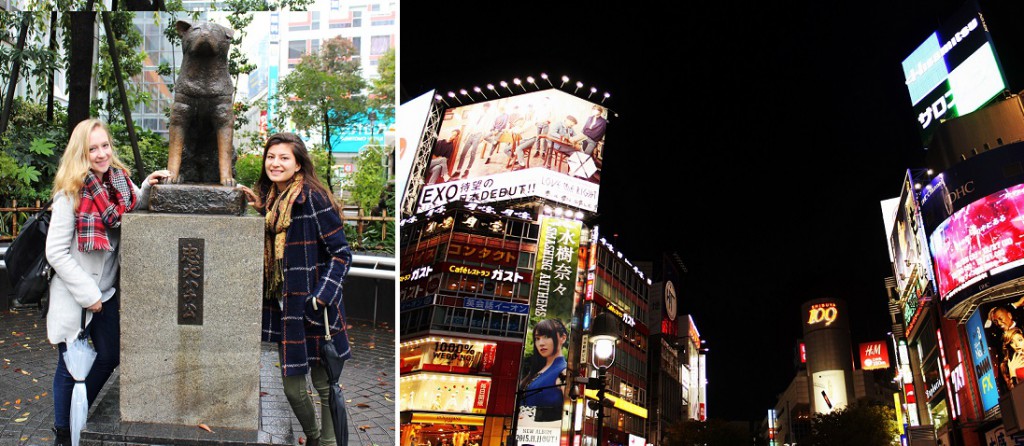 I was very impressed how considerate and disciplined thousands of people cross this road after every traffic light change. We spend the rest of our day in the lovely quarter Kichijoji 吉祥寺, that felt much more calm and less touristic than what we had experienced before in Shibuya. There you can find many shops and interested restaurants and also a park nearby, called Inokashira 井の頭恩賜庭園.
On the next day we explored the shrine and surroundings of Asakusa, Meji shrine, the quarter of Ginza. Furthermore, we walked the streets of Harajuku, a very crazy spot with  lots of fancy shops for young people, who dress up like to dress up in various, carnival-like costumes. Barbie or gothic style as well as anime, are common ways of transformation.
Besides the traditional Japanese Ryokan hotels Japan offers it's visitors a very exciting and different way of overnight stay. In Tokyo I experienced two nights in a capsule hotel. Built by the idea of a hotel for short time overnight stay for business men in Japan, these hotels just have an absolute minimum of comfort.
If you spontaneously need a place to stay for a night, you will find it very reasonable there.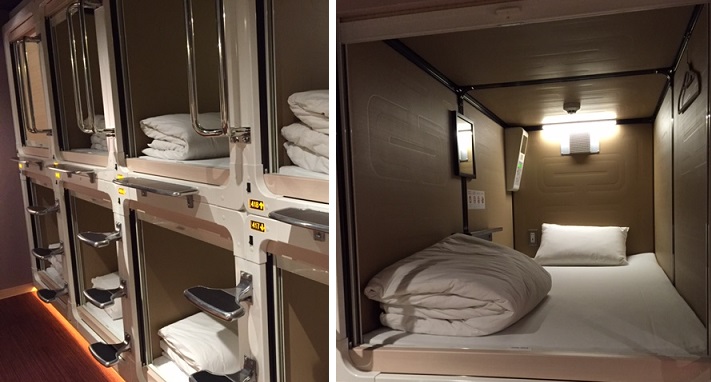 Moreover I would like to mention my daytrip, to Hakone, which is located 80 kilometers west of Tokyo. Together with my Japanese friend Ai Noguchi 野口藍and her parents I was taken by car to the marvelous landscape of the Hakone Mountains up to the lake Ashi芦ノ湖. This lake is a crater lake of the Island Honshu. The whole day we were accompanied by wonderful weather, that allowed us to enjoy some of the most impressing and beautiful views on the Fuji-san富士山, the highest mountain of Japan.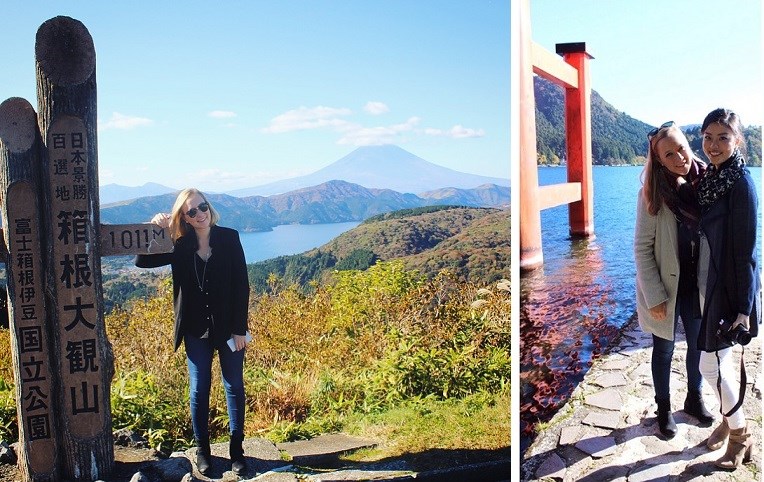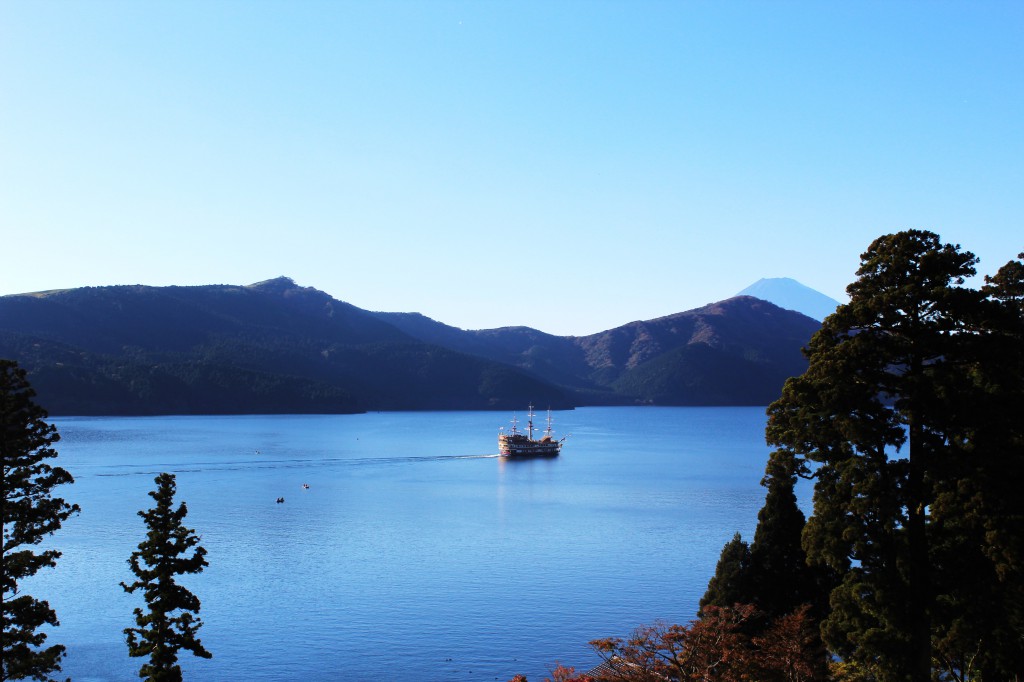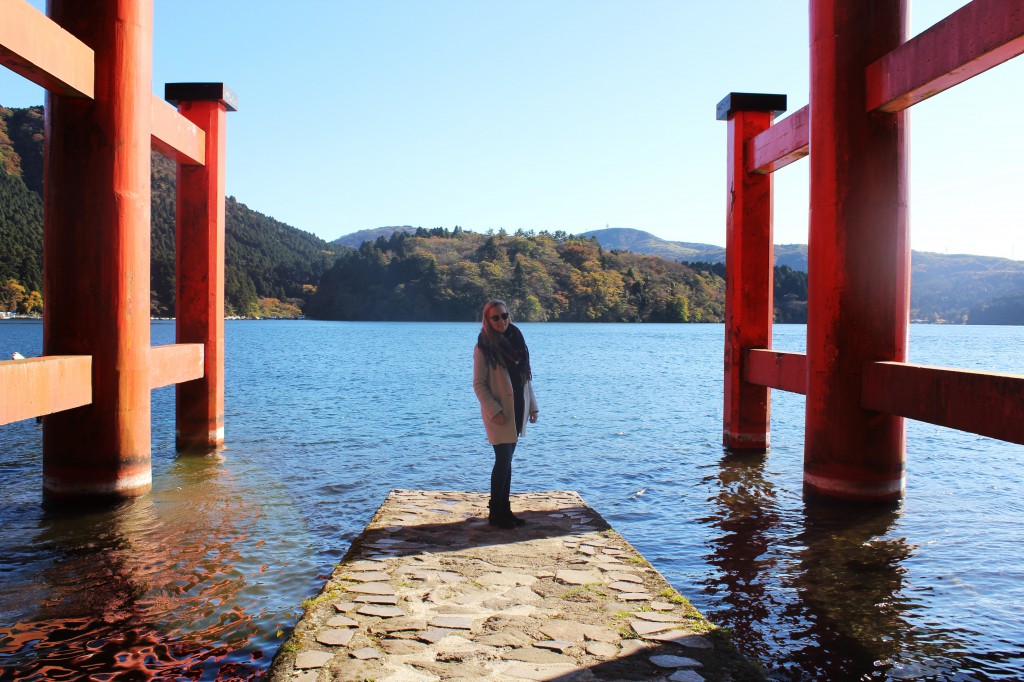 After my return I only had little time to recover from all my impressions during the last days. But I was already looking forward to a very special weekend in Toyama 富山市, together with Mr. and Mrs. Okamoto.
After experiencing urban Japan during the last weeks, I was thrilled to leave the high houses and roads with its loud and hectic character of Osaka to go to Toyama. This city is situated 360 kilometers away from Osaka, where Mrs. Okamoto was born. There I was expecting the beautiful autumn colors of the trees, bushes and plants surrounded by mountains and Japans original nature.
Within the proximity of the sea and the beginning of autumn until the coming of winter, one can experience a very special seasonal happening and a culinary specialty. In this time of the year it is possible to catch and eat the enormous and delicious crab,  called Kani 蟹. Sharing this experience with Mr. And Mrs. Okamoto, has been very special to me.
On our way to Toyama, we stopped in Tōjinbō東尋坊to buy the Kani. Tōjinbō is a little township in the Fukui prefecture, characterized by a bay with huge and high rocks at the seaside. Beyond, it was very exciting to see how Mrs. Okamoto prepared the Kani in the house of her parents, before we enjoyed the delicious meal in a traditional tatami room.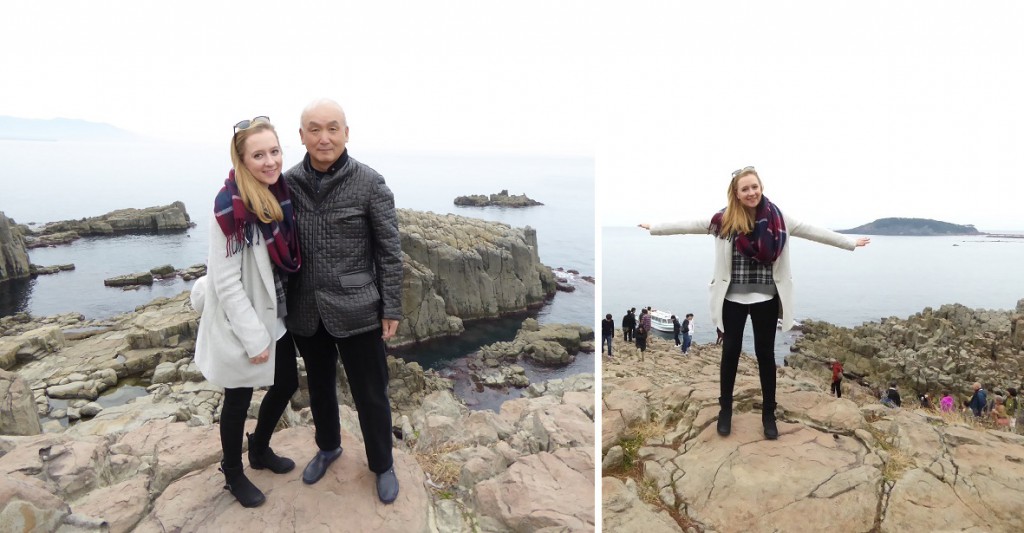 Beyond, it was very exciting to see how Mrs. Okamoto prepared the Kani in the house of her parents, before we enjoyed the delicious meal in a traditional tatami room.
On the next day we headed for the romantic mountain village and World Heritage Shirakawa-go白川郷. As the weather hasn't been too good, and fog had been strolling up, the surrounding mountains were wrapped in a cloudy and grey dress, that generated a mysterious atmosphere in the small village. Shirakawa-go is known for its amazing houses, that have been built in a so called Gassho style and remind its visitors of praying, folded hands.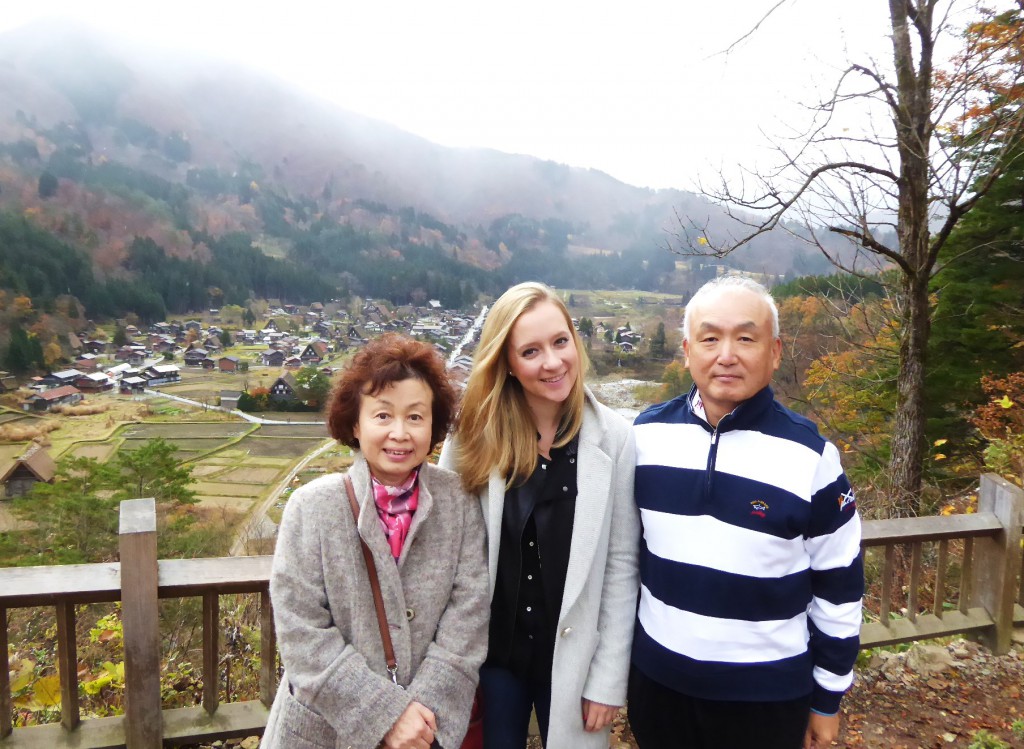 On our way back home to Suita-City, we stopped over in Obama 小浜市 for lunch, before we continued our tour. Instead of the motorway, we followed a road that lead us through the beautiful and colorful autumn landscape of the mountains up to Ohara 大原, a small and little town, situated in the north-east of Kyoto. After our arrival, we visited Sanzen-in 三千院 temple. The temple area as well as it's beautiful Japanese garden with a little pond, are connected through a beautiful wooden corridor. Sitting beside the pond, enjoying the silence of the garden and the ancient temple, we had a rest and were invited to try handmade traditional Matcha tea.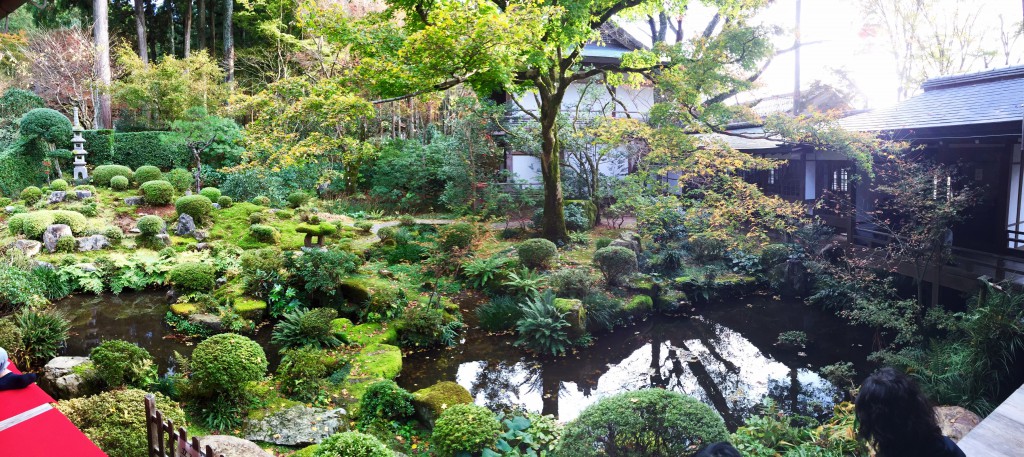 Alongside all my unforgettable impressions throughout the last weeks, I am now looking forward to a very special event: the arrival of my parents and the possibility to share the wonderful experiences in Japan with them.