☆☆ 2nd report of Luca Spring, 15th scholarship holder of Grünwald foundation ☆☆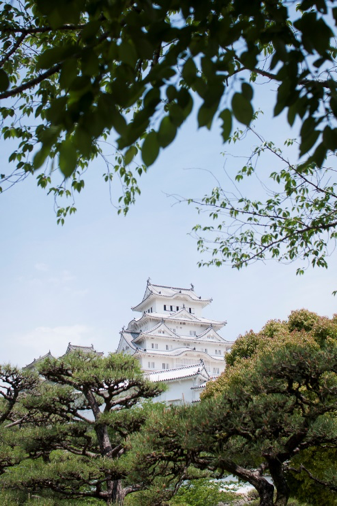 Lots of hours in the train, impressive temples and gardens, and getting lost within the crowd in urban Tokyo – this is how my last two weeks can be briefly summarized. After having settled in Osaka, I was now able to travel and explore further regions of Japan. Together with my visiting family, we had the pleasure to visit different cities such as Tokyo, Kyoto, Nara and Himeji. I would like to express my sincere gratitude to Mr. Okamoto for his time and committment at all time and his hospitality!
Throughout the past few weeks, there were two particular Japanese pecularities that attracted my attention: (1) The punctual and perfectly running railway system and (2) the extreme cleanliness everywhere. This second report shall be written along these two aspects.
Railway system
Japan – the country of absolute punctuality. This was one of the stereotypes I already learned back home in Europe, and indeed I was not disappointed. Quite contrary, the train journeys across the country were more punctual, smooth and trouble-free than I could even imagine. I could almost not believe my eyes when trains approached the stations to the minute, when it stopped right at the designated entrance spots, when staff politely assisted the passengers (wearing white gloves), and when it eventually silently left the station again perfectly on time.
What are the reasons for this? After a bit of research, I came up with two assumptions: (1) Japanese employees show a much higher level of loyalty and sense of duty, which motivates them to do the very best job possible. (2) Moreover, there simply may be an increased sensitivity of punctuality in Japan, that does not tolerate for the German "akademische viertel Stunde" (indicating that it is accepted to be 15 minute late). For completeness and honesty reasons however, one needs to defend the "Deutsche Bahn" (German railway company) that the Japanese infrastructure differs significantly from the German system. Opposed to German high-speed trains (ICE), the Japanese Shinkanzen trains have their own railway network, often built on viaducts that are less often subject to disturbances. Besides the impressive Shinkanzen trains, the Japanese local-bound public transport system appeared to be equally impressive too. To manage the huge crowds of people during rush hours, some stations have employees that press passenges inside the trains, a truly pragmatic Japanese way to solve it. Another difference to Germany are the "women only"-carriages, that protect women in packed trains from awkward contact to strangers.