Management philosophy
We create the environment for people to feel the four seasons in nature daily and, through realizing a housing environment using the latest technology, pursue improvement of culture and living, and continuing development of the social environment.
Founding of Grunwald foundation prospectus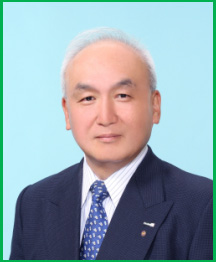 Our country has built a firm position as one of the major countries holding economic power in the world through the past half-century. This achievement was possible not only because of the postwar baby-boom generation but also several generations which had handed down the spirit of hard work as a Japanese virtue. Japan has a unique culture that is rare in the world. It is rich in nature, beautiful scenery and architecture that we are proud to introduce to the world. I believe it is no exaggeration even if we call it the 'Shangri-la of the world'. Unfortunately, I have to say that the number of people in the world who recognize this existence of Japan is not very large. The owner of Grünwald had the opportunity of studying abroad in Germany in his young days and experienced German society, which had a significant life changing influence on him. Therefore, I believe having experiences and seeing different worlds in our youth when we are rich in sensitivity expands an individual's creativity and lets one have a wider vision of the world, which is the most important thing for potential growth in the future. There are still many disputed regions in the world, which, in addition to global terrorism has been raising alarms. To work on building a peaceful world for the next generation in such a global situation we need to work on generating opportunities to build mutual understanding and cultural exchange of young people globally which will create the path to world peace. I would like to contribute even a little to building this path to world peace. For this realization, Grünwald has established a foundation to offer the opportunity for the young from around the world to visit Japan so that they can activate expanding mutual understanding and experience exchange in culture, ideas, history, technology, etc.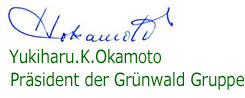 Grünwald Company., Ltd.
| | |
| --- | --- |
| Company name | Grünwald Company., Ltd. |
| Address | 3-6-20 Katayamacho Suita Osaka JAPAN 564-0082 |
| TEL | +81(0)6-6339-7238 |
| FAX | +81(0)6-6339-1082 |
Officer
President
Mr. Okamoto, Yukiharu
Vice President
Ms. Okamoto, Yoko
Auditor
Mr. Ikegami, Mistuo
Bank
- The Kita Osaka Shinkin Bank
- Bank of Tokyo-Mitsubishi UFJ
- Sumitomo Mistu Banking Corporation
- Resona Bank, Ltd.
- Kyoto Bank, Ltd.
Partner
- Suita Chamber of commerce
- Japanese-German Association Osaka
Affiliate: Infinion Corporation
| | |
| --- | --- |
| Company name | Infinion GmbH |
| Address | 3-6-8 Katayamacho Suita Osaka JAPAN 564-0082 |
| TEL | +81(0)6-6388-1740 |
| FAX | +81(0)6-6339-7238 |
Officer
President
Herr Okamoto, Yukiharu
Executive director
Herr Okuno, Hisanobu
Bank
- The Kita Osaka Shinkin Bank
- Resona Bank, Ltd.